I was cleaning my bathroom this morning when the Bob Dylan song "Hurricane" came on shuffle. It tells the story of Rubin 'Hurricane' Carter, a black boxer who was wrongly convicted of a triple homicide on minimal evidence in 1966. My jaw dropped at this line, written forty-some years ago: "If you're black you might as well not show up on the street / 'Less you wanna draw the heat"
Carter's story isn't the same as those we've heard recently, but it still sounds frighteningly plausible. And it shows just how strongly we have embedded racism into our judicial system.
I'm immensely thankful for the fact that Ferguson has gotten the coverage it deserves. Sure, it may have been the straw that broke the camel's back, but it has brought a platform to an issue that has been bubbling for months, if not decades.
While I am by no means an expert on the topic, I've been following developments in Ferguson closely for the past few months. These are just some of the stories I found particularly important or moving. Please share more if you have them.
For an overview of the situation in Ferguson, this New York Times article is worth reading. Because in the midst of rumors and strong opinions coming from all directions, it is important to understand WHY decisions have been made before we form our own opinions. This NPR news article shows and examines the documents used by the grand jury to make their decision.
Most importantly of all, the Brown family statement after the grand jury decision:
On Being a Black Male, Six Feet Four Inches Tall, in America in 2014 – in which comedian W. Kamau Bell chronicles the experience of buying an ice cream late at night from a convenience store when you're a 6'4″ black man. It's funny, but it's honest, and it's worth reading if you're anything like me (5'10" young girl with a button nose, harmless by definition)
"The fact is that being a B.B.M. has consequences. Being a B.B.M. is why I smile quickly. It's why I don't usually stand to my full height. I slouch and bend. When acquaintances haven't seen me for awhile, I often hear, "I forgot how tall you are!" I know you did. It's because I'm trying to make you forget. This is what being black in America has done to me, to others like me, and in some sense, even to you. It's not that I think that I will be killed by a police officer. It's just that if I am, it won't be a surprise."
This speech by Run the Jewels' Killer Mike, at a show in St. Louis on the night of the decision.

The most recent movie in the Hunger Games series involves Katniss (Jennifer Lawrence) and the Districts fighting against the Capitol (a brainwashed city of power and excess that exploits the poor districts for food and labor). At one point in the movie, Katniss visits a makeshift hospital filled to the brim with dying people. As she leaves, the Capitol sets the hospital and the rest of the remaining district on fire, aiming to drive Katniss into hiding and turn the people against her. Instead of backing down, she responds, "If we burn, you burn with us!"Someone wrote that quote on a wall in Ferguson: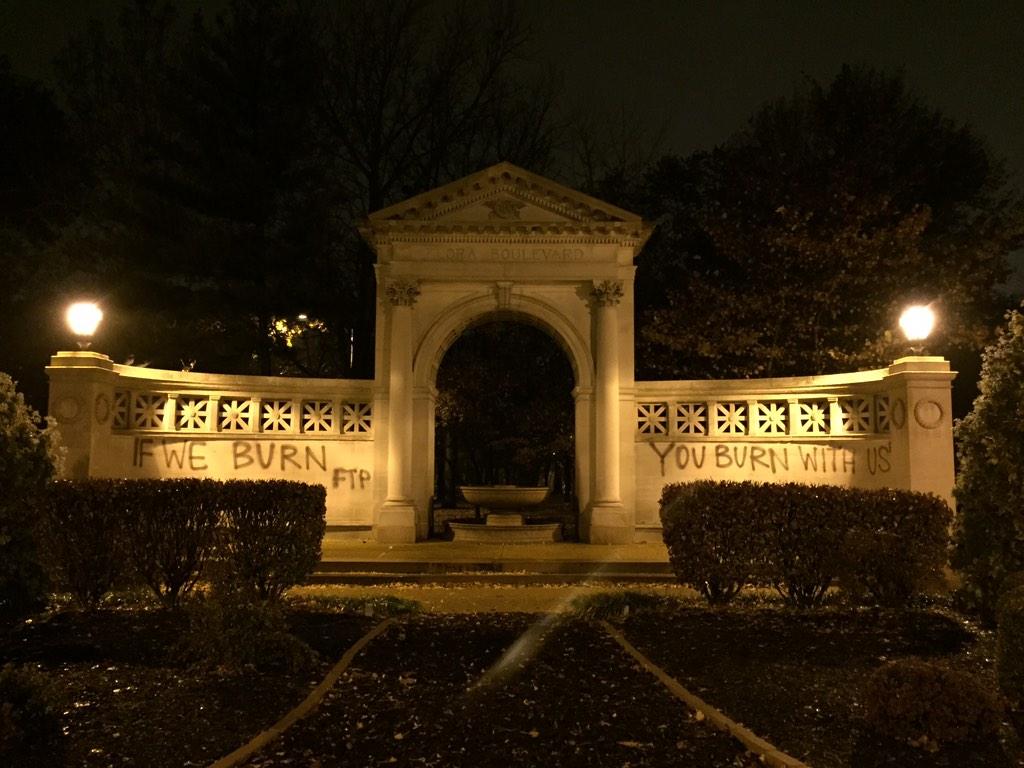 Last but most definitely not least, it is so important to recognize the other stories of police brutality happening all across the country. In early October, a young boy took this video from the back of his mother's car as the passenger side window was smashed and his mother's boyfriend, Jamal Jones, was pulled from the car and tased. The car was stopped because the family wasn't wearing seat belts, because they were on the way to the hospital to visit a severely ill family member. You can hear the children screaming in the backseat when the glass is broken and crying as Jones is tased and detained. It's disturbing and heartbreaking. On November 22nd, 12 year old Tamir Rice was shot and killed within TWO SECONDS of the police being on scene. This week, artist Shirin Barghi created this moving set of minimalist pictures showcasing the last words of 10 victims of police brutality.

It's hard to know where to start with a conversation as big and complicated as this one. It all comes down to power and fear and cultural stigmas and pressure. All of us should be held accountable. Injustice needs to be recognized when it occurs, so that we can learn from our mistakes and change.
If you have any stories or links you'd like to add, please share them in the comments.